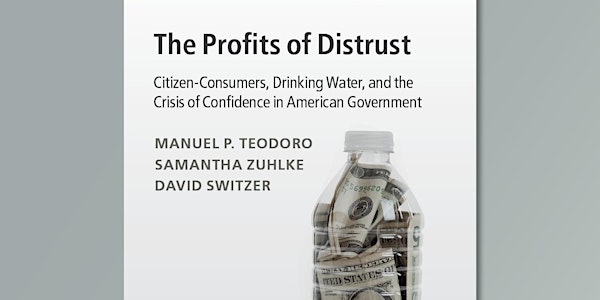 A book event with Manuel P. Teodoro (University of Wisconsin-Madison), co-author of "The Profits of Distrust", in conversation with Sabina Shaikh (UChicago CEGU).
6:00pm CT
Seminary Co-Op Bookstore, 5751 S. Woodlawn Ave.
—
The burgeoning bottled water industry presents a paradox: Why do people choose expensive, environmentally destructive bottled water, rather than cheaper, sustainable, and more rigorously regulated tap water? The Profits of Distrust links citizens' choices about the water they drink to civic life more broadly, marshalling a rich variety of data on public opinion, consumer behavior, political participation, geography, and water quality. Basic services are the bedrock of democratic legitimacy. Failing, inequitable basic services cause citizen-consumers to abandon government in favor of commercial competitors. This vicious cycle of distrust undermines democracy while commercial firms reap the profits of distrust – disproportionately so from the poor and racial/ethnic minority communities. But the vicious cycle can also be virtuous: excellent basic services build trust in government and foster greater engagement between citizens and the state. Rebuilding confidence in American democracy starts with literally rebuilding the basic infrastructure that sustains life.
Please join CEGU for a discussion between co-author Manny Teodoro and CEGU Director of Academic Programs Sabina Shaikh for a conversation about the book at the Seminary Co-op Bookstore.
—
Based in the Division of Social Sciences at the University of Chicago, the Committee on Environment, Geography and Urbanization (CEGU) is an interdisciplinary platform for critical thinking, advanced research, and innovative pedagogy on the societal and spatial dimensions of climate change, biodiversity loss, and other kinds of environmental transformation.
Key fields of research and pedagogy include urban environmental studies and sustainable urbanism; energy histories and geographies; environmental humanities; spatial and environmental media; environmental policy, design and practice; and community engagement.
Further event listings can be found at cegu.uchicago.edu.