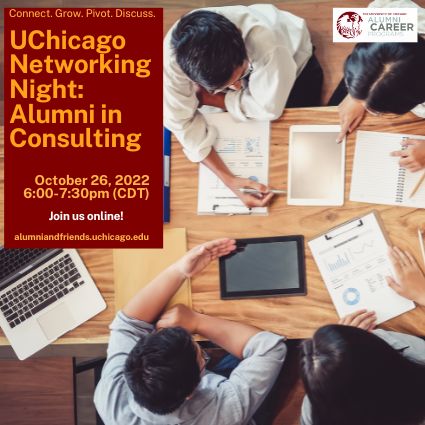 Join us for a virtual networking night celebrating UChicago alumni in consulting!
This event is free and open to all UChicago alumni and friends.
October 26, 2022 | 6:00 p.m.–7:30 p.m. (CDT)
The University of Chicago has one of the most talented alumni networks in the world. Our UChicago Networking Nights series represents an effective, less awkward way for alumni to build their professional networks and assist their fellow alumni.
We invite all UChicago alumni to UChicago Networking Night: Alumni in Consulting. This virtual event will enable alumni to connect with each other and provide advice, share opportunities, and more with fellow Maroons making career moves today in consultancy.
Strategy Consultants
Management Consultants
Operations Consultants
Financial Advisory Consultants
Human Resource Consultants
Medical Consultants
Information Technology Consultants
Security and Cybersecurity Consultants
Featuring a kickoff panel conversation with:
Chuck Brooks, AM'81 | President, Brooks Consulting International
Daphne Yin, AB'10 | Head of Climate and Sustainability, Indufor North America
Andrew Xue, SB'17 | Consultant, Boston Consulting Group Platinion Enterprise Solutions
This Networking Night will take place on Zoom. Alumni will be able to move between virtual rooms as though we were attending a networking event in person. You can participate from anywhere!
Feel you need to prepare? Ease into the networking headspace with our Mind Your Career webinar "Make Networking Less Awkward" featuring career and confidence coach Caroline Ouwerkerk, AB'09.
Plus subscribe to our bi-weekly newsletter for more career development resources from UChicago.