Explore the 606, a former rail line turned elevated trail, and dive deep into local housing issues and "green gentrification"
Fri, September 30, 2022
1:30 PM – 4:45 PM CDT
Register here.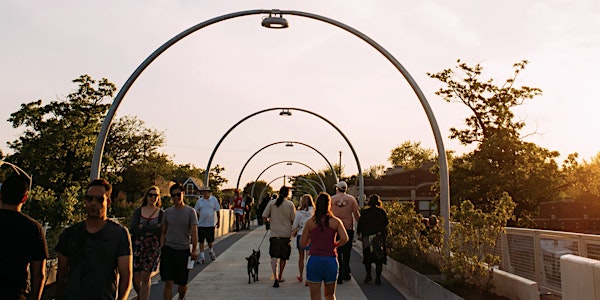 Visit one of Chicago's most popular public spaces, the 606, an elevated rail-trail which "brings together arts, history, design, trails for bikers, runners, and walkers, event spaces, alternative transportation avenues, and green, open space for neighbors, Chicagoans, and the world."
As we walk along the elevated trail, led by Nick Zettel of the 1st Ward and Lisette Castanada from LUCHA, we will touch upon the social ramifications of the project, such as "green gentrification" or when "public investment in green spaces – like the 606 trail — can raise property values, attract development and wealthier residents, and price existing residents out of the area."
Participants will meet their guide at the UGo Shuttle Bus Stop at 5800 S. Ellis Street at 1:30PM. The group will then take the shuttle and CTA to the 606, where the hiking tour will begin. Participants will need to bring their student ID and set up their Ventra app in advance. Students can find information on how to do so here. The general public is welcome to meet us at the Urban Hike start point at the California Blue Line stop at 3:00PM, information on CTA Travel/Ventra here.
This Urban Hike will include multiple hours of outdoor walking. Please wear comfortable walking shoes, as well as multiple layers of clothing for changing Autumn weather. We also encourage participants to bring preferred snacks and water. Please contact tconway@uchicago.edu with any questions.