Oil and gas prices were high and rising prior to the Russian invasion of Ukraine, and the reasons for the trend are contentious. Some point to the pandemic recovery as a key driver. But others note that investment in new oil supplies has been insufficient to meet demand at a time when there are still few alternatives to oil in key sectors like transportation and industry.
The reason for that underinvestment is up for debate, but many analysts are beginning to ask whether Environmental, Social and Governance (ESG) targets by investors and NGOs have raised capital costs and reduced the attractiveness of oil investments. Some are warning that a looming supply crunch will result in even higher oil prices and dramatic oil price volatility in the coming years. EPIC tackles the following questions: Are ESG targets and net zero efforts by companies and investors influencing markets and raising energy costs? Is such an approach the best way to transition to a clean energy economy? Or are there less costly and more efficient ways to decarbonize? What could all of this mean for the long-term future of oil markets?
Join EPIC as they host a conversation on the outlook for oil markets and its implications for the overall fight against climate change. The discussion will include investor Jeff Ubben, founder of Inclusive Capital Partners and an Exxon board member, former White House official and founder and president of Rapidan Energy, Bob McNally, and EPIC Director Michael Greenstone. The event will be moderated by The Atlantic's Robinson Meyer. Register here.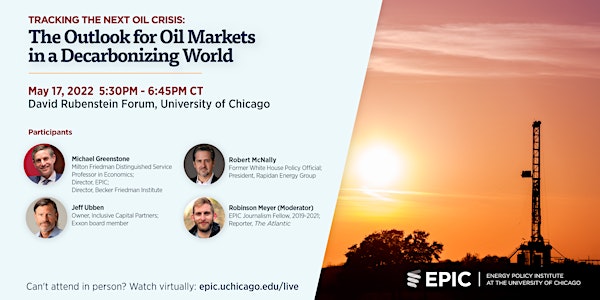 Event Details:

Date & Time: May 17th, 5:30 pm – 6:45 pm CDT
Location: David Rubenstein Forum at the University of Chicago
---
The Energy Policy Institute at the University of Chicago (EPIC) produces data-driven research that advances society's understanding of the global energy challenge and translates research insights into real-world impacts through strategic outreach and training for the next generation of global energy leaders.