Developing countries represent a large source of potential future carbon emissions as they seek to rapidly industrialize their economies. Yet, if the world is to hold future warming to 1.5 degrees Celsius, these countries must identify a cleaner model of growth that relies on low- or zero-carbon fuels instead of fossil energy. This tension between maintaining access to inexpensive energy and addressing climate change was on full display last fall when countries met at the COP26 international climate talks in Glasgow, Scotland. India, already the world's third-biggest emitter, committed that half of its energy come from clean sources by 2030. At the same time, the country pushed for a key change to the final agreement: weakening language from a "phase out" of coal to a "phase down." India is part of a cohort of countries seeking aid from richer nations to help them make the transition away from fossil fuels.
This forum will focus on the following questions: How can developing countries balance their need for reliable energy with goals to transition away from fossil fuels? Are there signs of progress? And, what responsibility do developed nations bear for helping developing countries confront climate change?
Join EPIC as they host a conversation on climate policy in the developing world with Indian Member of Parliament Priyanka Chaturvedi, former U.S. Deputy Climate Envoy Jonathan Pershing, program director of environment at the William and Flora Hewlett Foundation, and EPIC Director Michael Greenstone. The event will be moderated by EPIC's journalism fellow, Lisa Friedman, climate policy reporter for The New York Times. There will also be a reception with complimentary food and drinks at 5:00pm. Register for the event here.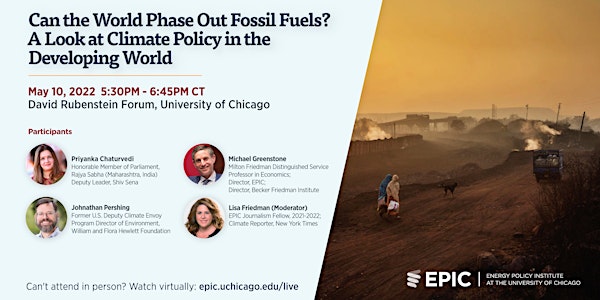 Event Details:

Date & Time: May 10th, 5:30 pm – 6:45 pm CDT
Location: David Rubenstein Forum at the University of Chicago
---
This event is a part of the Global Energy Challenge: Spotlight on International Climate Policy series, which focuses on bridging science, economics, and policy divides to find climate consensus.
The Energy Policy Institute at the University of Chicago (EPIC) produces data-driven research that advances society's understanding of the global energy challenge and translates research insights into real-world impacts through strategic outreach and training for the next generation of global energy leaders.